Thinking about revealing a new you with a tummy tuck? As a board-certified plastic surgeon in Houston, TX, I get to experience the joy this procedure creates firsthand. For people who have had children or lost significant amounts of weight, a tummy tuck is often the finishing touch they need to reclaim their bodies and feel at home in their skin again.
Because each case is unique, there are several different approaches to creating that tight, flat midsection we all dream of. In this blog post, I'll share a bit more about each technique to help you better understand which option may be right for you.
Mini Tummy Tuck
A mini tummy tuck removes excess skin and fat below the bellybutton. Rarely is a mini tummy tuck combined with diastasis recti repair, so generally it is not your best option if weakened or separated abdominal muscles are a source of dissatisfaction with your midsection.
Incisions: The incision is made very low on the abdomen and is shorter than in other approaches. Because the procedure only focuses on the lower abdomen, it doesn't require any repositioning or adjusting of your bellybutton.
Best candidate: If you have a small amount of excess skin and fat only below your bellybutton, you may benefit from a mini tummy tuck.
Standard or Full Tummy Tuck
A standard tummy tuck tightens skin and removes excess fat all the way from the pubic area to the rib cage. It also allows for muscle tightening, which flattens the bulge or "pooch" that is common with diastasis recti.
Incisions: The surgery leaves a well-hidden scar that runs from hip bone to hip bone, typically low enough that it's hidden even in a swimsuit. You'll also have a small incision around your newly repositioned bellybutton. With the help of a skilled surgeon, strategic incisions and meticulous suturing will result in scars that are as inconspicuous as possible.
Best candidate: This standard approach is ideal for someone looking for a tighter, firmer core, often after pregnancy or weight loss. Many women choose to include it as part of a mommy makeover. (Learn more about mommy makeover options and pricing in this blog post!)
Here's what one of my real patients shared about her new bellybutton:

"Dr. Cash is indeed skilled and talented in sculpting the body. Along with the abdominoplasty, she basically had to "create" a new bellybutton for me that is beautiful! During an exam, I recently showed my Ob-Gyn (who delivered my 2 babies), and she was impressed with the results herself, and amazed at how natural my bellybutton looked."

—Renewed007, RealSelf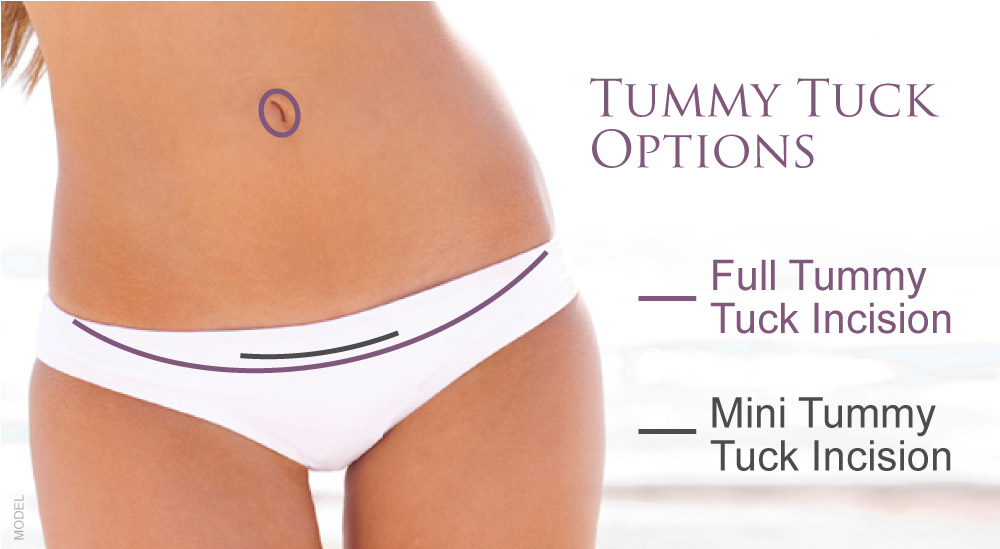 Extended Tummy Tuck
An extended tummy tuck reaches further around the midsection to tighten skin and remove fat on the flanks and past the hips.
Incisions: These incisions are longer than standard tummy tuck incisions but are placed in the same area, very low along the bikini line.
Best candidate: An extended tummy tuck is a fantastic option for someone who needs a bit more skin tightening than a standard tummy tuck offers. This is a common option for people who have experienced significant weight loss.
Circumferential Tummy Tuck
A circumferential tummy tuck circles all the way around your midsection to tighten skin on your tummy, sides, and back.
Incisions: This incision creates a circle that runs along your lower abdomen, around your hips, and across your lower back.
Best candidate: Like an extended tummy tuck, a circumferential tummy tuck is best for those who are looking for significant amounts of skin removal, but this approach provides the added benefit of tightening skin on the back, as well.
Fleur-de-Lis Tummy Tuck
This procedure offers the greatest amount of skin removal on the upper and lower abdomen, which creates a smaller waist circumference.
Incisions: This approach leaves an inverted T-shaped scar that runs vertically down the abdomen and horizontally along the bikini line.
Best candidate: This procedure is ideal for someone who has lost a massive amount of weight and has significant amounts of excess skin. It is commonly performed as a part of a body lift, which includes skin tightening on multiple areas of the body.
Can I Include a Hernia or Diastasis Recti Repair in My Tummy Tuck?
If you are suffering from a hernia or separated abdominal muscles (diastasis recti), these can be repaired as part of a tummy tuck. Hernia repair can be included in any type of tummy tuck, and diastasis recti repair is possible with any type other than a mini tummy tuck. In most cases, it's best to include diastasis recti or hernia repair with a standard tummy tuck to address these issues, along with removing excess skin and maintaining a natural-looking bellybutton.
Choosing the right tummy tuck technique may seem confusing, but there's no need to worry: My team and I will work closely with you each step of the way to decide on the perfect approach for you.  Please visit my before-and-after photo gallery to see examples of transformations people like you have achieved with abdominoplasty.
If you would like to learn more about what is possible with cosmetic plastic surgery here in Houston, please request a consultation online or call (713) 571-0600 to get in touch. I look forward to hearing from you!