When thinking about cosmetic breast surgery, such as breast augmentation, women always feel more comfortable with the procedure once they understand what's really possible. Here in Houston, I've seen many women considering breast augmentation and other procedures, and these are some of my favorite patient stories.
In each case, the patient had a vision in her mind of the result that she was trying to achieve, but it wasn't always easy for her to put that vision into exact words. It was my job to listen to her concerns and expectations and design a surgical strategy to give her exactly what she was wanting. Below, I discuss how I made that happen. If you're considering breast enhancement surgery and live in the Houston area, request a consultation using the online form, or call our office at  (713) 571-0600 to schedule your personal, private appointment.
Keep in mind each patient is unique and your experience may vary.
I love this 36-year-old patient's natural-looking results after getting a breast augmentation using Natrelle® 410 breast implants. Her particular implants are filled with highly-cohesive silicone gel and anatomically or "teardrop" shaped to resemble the natural slope of a breast. It's an ideal choice for this patient, who didn't want too much upper pole fullness in her final results.
I think she has the most perfect-looking breasts after her procedure. (The "after" photo was taken 4 months after the surgery.) They're perky and youthful, with a contour that looks very natural. The 410s have been shown to hold their shape longer than any other implant on the market, so she'll enjoy these results for years to come. I enjoy working with the 410s, because I'm able to shape the breasts, rather than simply stuffing them.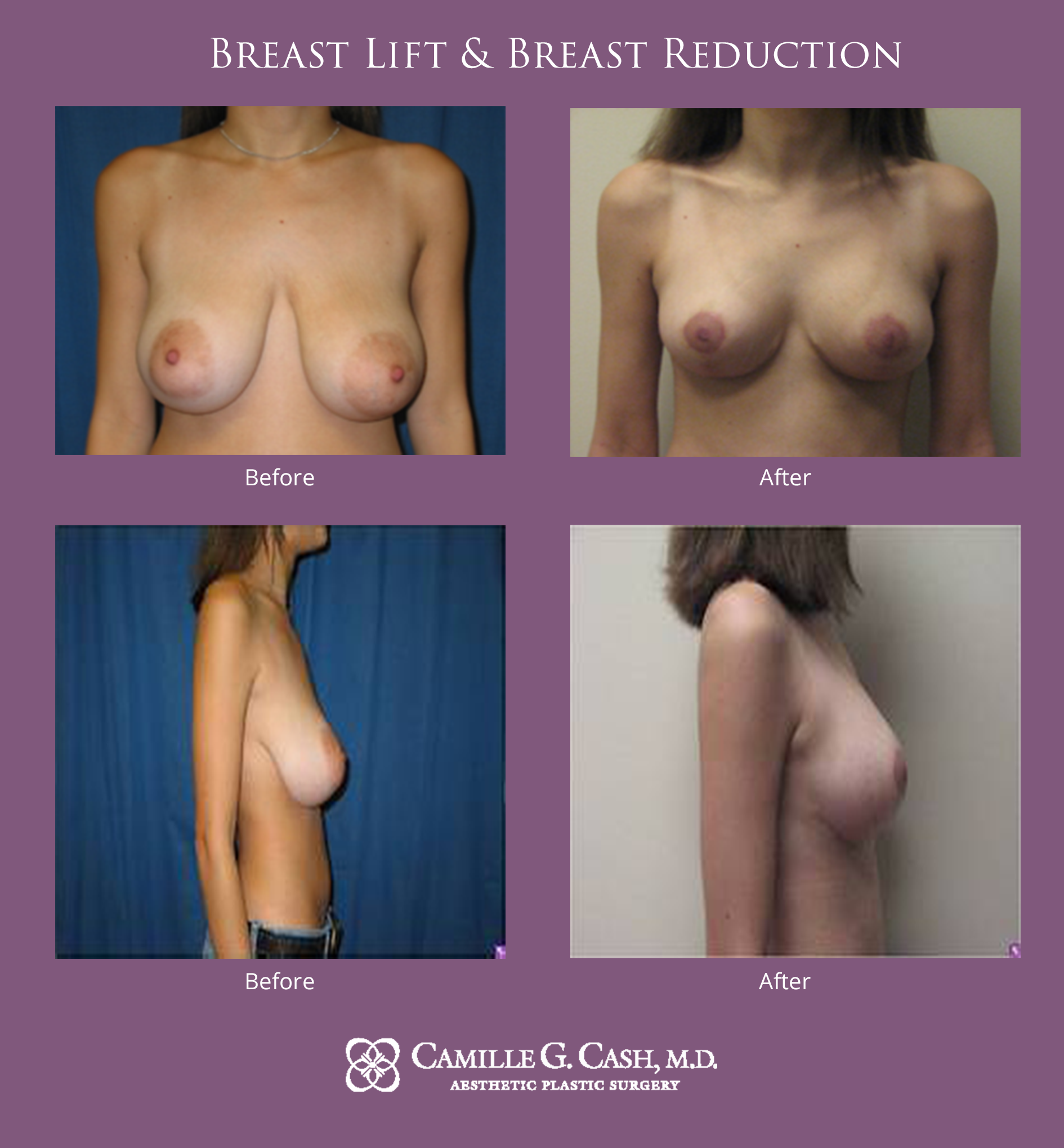 Helping a patient such as this is one of the many reasons I love my job. This young woman was 18 when I first saw her, and she told me she already felt like an old lady when she wore a bikini around her friends of her same age. Besides being self-conscious, she endured neck, back, and shoulder pain because of the drooping and hanging of her breasts.
I performed a breast lift combined with a moderate breast reduction to give this Houston woman her newly perky, uplifted breasts. I used a technique called a superior pedicle. That essentially enabled me to preserve and reshape all of the tissue of her upper breasts while removing the sagging lower tissue. She now enjoys lifted breasts that match both her body frame and age. Now she feels confident when she is at the beach!

"It's great, doctors like yourself who make miracles happen. I am so pleased with my results. Best wishes. "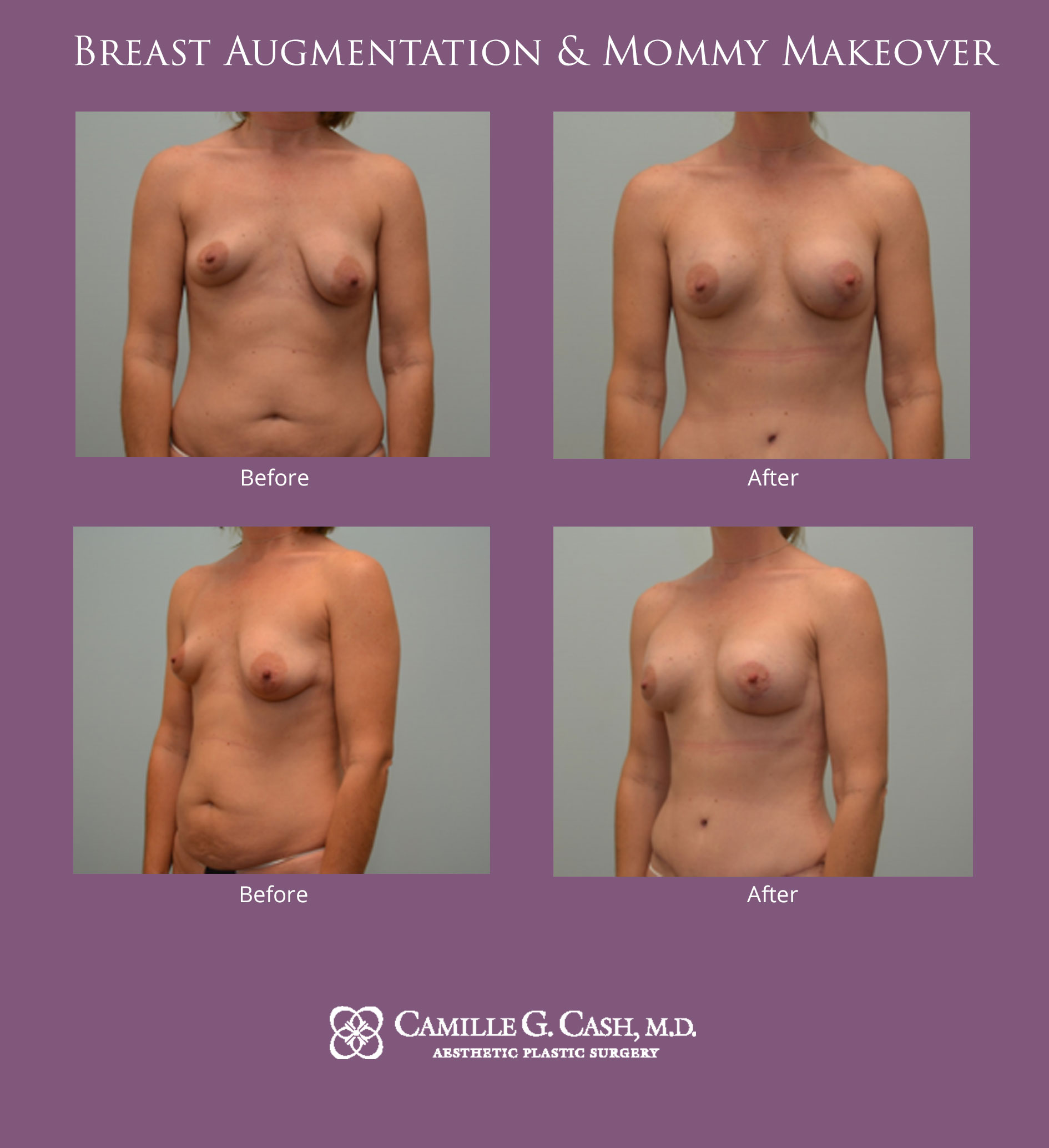 This is another great result that meant a lot to me because of the patient's story. She was getting ready to move away from Houston. She was looking for a fresh start after recently losing her son to cancer after a long battle. She wanted a new body as she embarked on this new chapter.
She was very self-conscious about the significant breast asymmetry, and my job was to make the breasts more symmetric. I began by removing some of the extra skin on the left breast to elevate the nipple position to match the position on the right. I then placed implants in both breasts, creating more fullness and equalizing the breast volume without increasing the size too dramatically.
I also performed a tummy tuck to reveal the flat, toned abdomen this very active woman already had. She did move her family to a new town with a new body, and I'm happy that I helped lift her spirits — as well as her breasts.
Performing any cosmetic breast surgery requires an eye for symmetry and shape. This 36-year-old woman had ample breast tissue, but most of it was pointing downward and resting on her abdomen.
I performed a breast lift to essentially divide the breast tissue in half, creating a natural "breast implant" using the tissue from the lower half of the breasts. I transfer this tissue under the chest muscle into the upper pole of the breast, which creates long-lasting fullness and projection. I also remove excess skin.
The result? Voluptuous, lifted breasts that create the impression of having breast augmentation — but without implants. Va-va-voom.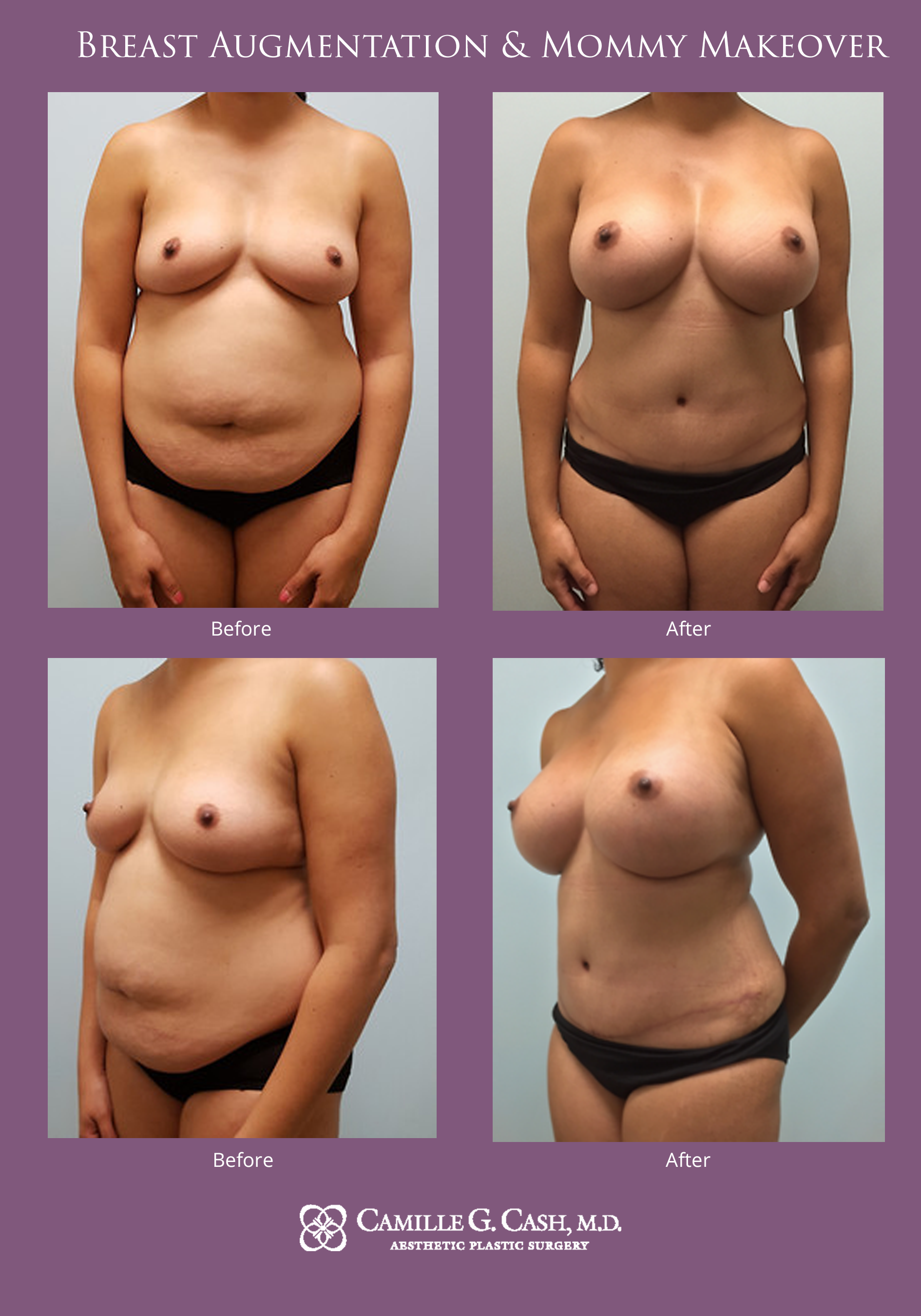 It's hard to believe this 39-year-old patient is the mom of 2 young children after her mommy makeover that included a tummy tuck, liposuction, and breast augmentation here in Houston.
Her newly full, voluptuous breasts look natural on her body. Because her breasts were slightly asymmetrical, I used a slightly larger implant for her right breast. The tummy tuck and liposuction removed excess skin and fat, and now she has some shapely curves. Best of all, she feels sexy and confident.
Many women with droopy breasts, such as this 37-year-old mother of 2, want more shapely breasts but are reluctant to combine a breast lift with breast implants. In cases like this, I recommend modestly sized breast implants for my Houston patients, because her existing breast tissue alone can't create the desired fullness in the upper pole.
For her, the 340-cc Sientra® silicone gel implants she chose are round, textured, and low profile. After inserting the implant, I reduced the skin and breast tissue around it to create a youthful shape that looked natural. Her breasts are now fuller, symmetric — and thanks to embrace® scar therapy, her scars are barely perceptible.
This 32-year-old mother of 3 desired full cup breasts. Her case presented unique challenges that demonstrate the importance of tailoring the surgical technique to each patient's needs.
She had small breasts, but large areolas (i.e., the dark skin surrounding the nipple). To achieve her goals, I combined a breast lift procedure with breast augmentation. I performed a breast lift using circular incisions at the edge of the areolas to reduce their size. This is clinically known as a periareolar incision, but is often called a "donut" or "purse string" breast lift.
The scar is well-hidden where the skin around the breasts joins the darker areolas. I also performed breast augmentation with round, smooth, 450-cc liquid silicone implants.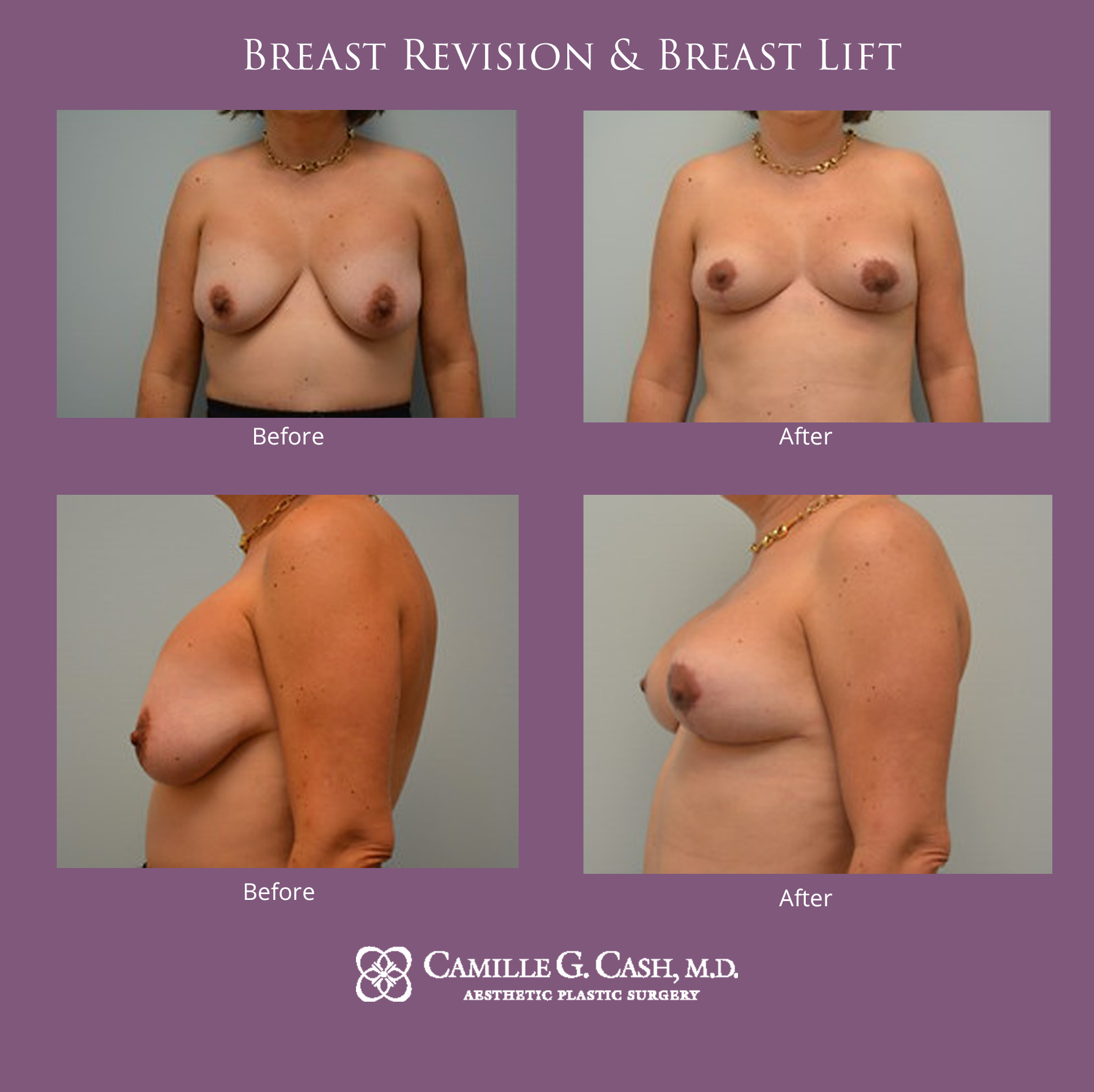 Most breast augmentation patients are happy with the outcome of their procedures, but unfortunately that's not always the case. This 44-year-old woman came to me disappointed after having 2 breast augmentation procedures with other surgeons. Her breasts were larger than she wanted and the shape did not appear natural. Her implants sat too high on her chest, creating what's called the "Snoopy" or the "Double Bubble" deformity seen in the before photos. She had also developed a capsular contracture, a complication that develops when scar tissue hardens around the implants.
The patient and I discussed multiple surgical options, but after two failed previous surgeries, she was at a crossroad. She was concerned that if she just removed them she would not have enough of her breast tissue to give her the fullness that she wanted, but she had already had two failed implant procedures and was reluctant to have a third set of implants. We had an in-depth consultation and discussed multiple options. We both agreed that the best option to address all of her concerns was to remove the implants and the scar tissue, and complete a breast lift that would use all of her own natural tissue to shape the breast. For the breast lift I used a technique I often employ to create volume, fullness, and projection without implants, moving the patient's breast tissue into the upper pole of the breast.
The result is a natural breast that is perky, balanced, and proportionate to her small frame. And as you can see, there is minimal scarring.

"Dr. Cash, my angel, has done a marvelous surgery on me and has helped me to overcome frustrations of physical appearance. I am so appreciative of Ebony Magazine for spotlighting women of color in the Plastic Surgery – Board Certified section, and I am forever grateful to have met such a beautiful and warm individual."
*Keep in mind each patient is unique and your experience may vary.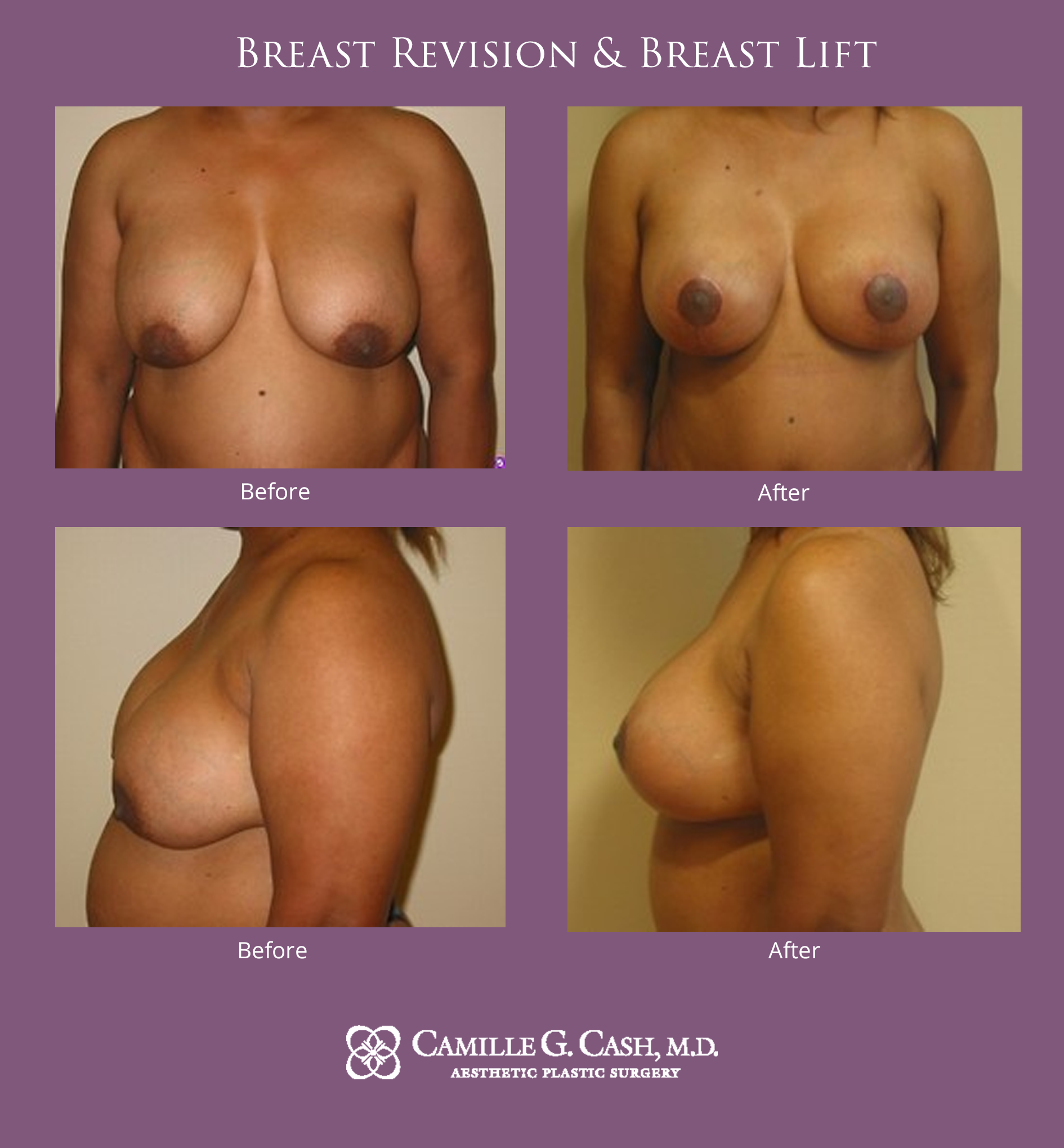 Here's a common question I hear from patients: "Will breast implants lift the breasts?" The answer is no, and this 47-year-old patient's "before" photos illustrate what happens when you try to achieve a lift by using an implant only.
In a previous breast augmentation, her surgeon inserted large implants into breasts that were already droopy — which pulled the breasts down even more. Implants simply add volume, and gravity works on them just as it does on natural breast tissue.
The solution is to combine a breast augmentation with a breast lift. I replaced the saline implants with silicone gel implants, which have a softer, more natural look and feel. Adding in the breast lift removed the redundant skin and breast tissue and elevated the nipple position. This created perky, soft breasts with equal fullness in both the upper and lower poles of the breasts, as you can see in the "after" photos.
Less than 6 months after getting breast augmentation by another Houston plastic surgeon, this 29-year-old woman was very dissatisfied with her results. She visited our Upper Kirby office hoping that I could help her. I was happy to tell her with confidence that I could.
She had multiple reasons to be unhappy. First, her breasts were smaller than she desired and they were asymmetric. The reasons for the asymmetry included that she had a capsular contracture on the right breast which pulled the implant up and distorted the breast shape. Second, her left implant was displaced inferiorly because her inframammary fold had been disrupted and was unnaturally low. Finally, she had visible rippling in the cleavage of the left breast.
I devised a comprehensive surgical plan that would address all of her concerns. I needed to remove both implants and replace them with larger implants, release the scar tissue on the right to allow the implant to settle into a more attractive fold, and repair the fold on the left to restore the tissue to its natural position. I used a product called STRATTICE™, a tissue matrix used for added support in cases like this. It acts as an internal bra, helping to hold the fold and implant in the proper position, treat the capsular contraction and eliminate the rippling.
After surgery, she was elated. I had given her the results that she originally wanted. Her breasts were fuller, but appropriately sized for her frame, the right implant was soft, the rippling of the left breast was gone and both breasts were symmetric in appearance, position, and feel.